Pajamas for Peace hopes to become a part of the change process in finding solutions to end poverty, homelessness and school violence.
With every pajama purchase you will be providing another pajama to children and families at these organizations through our "Buy One, Give One, Empower One" and "Be the Change" initiatives. To learn more about our partners and the impact they are making in our world today, read more about their company missions below.
Meet Our Partners
Haven House/Bridges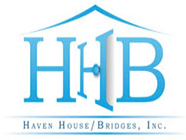 Haven House/Bridges Provides emergency housing for homeless families in Suffolk County, New York through a contract with the Suffolk County Department of Social Services (SCDSS). Haven House/Bridges Operates congregate emergency housing. Staff are available 24 hours per day. The primary objective is to assist homeless families to find and maintain permanent housing.
More information can be found on the Haven House Website.
Human Options
Human Options is a domestic violence agency whose mission is to ignite social change by educating Orange County to recognize relationship violence as an issue that threatens everyone, advocating for those affected by abuse, extending a safe place for victims and empowering survivors on their journey of healing.
More information can be found on the Human Options Website.
GRANNIES RESPOND
Grannies Respond's mission is to provide compassionate and respectful support for asylum seekers and immigrants who are seeking safety and security in the United States.
Learn more about their incredible work: www.granniesrespond.org
Moms for Moms
Moms for Moms supports single mothers in need through the assembly & distribution of their signature postpartum recovery and newborn care packages. They have served thousands of single mothers across New York City that are often the victims of abuse, homelessness, job loss and financial uncertainty.
Learn more about their incredible work: www.momsformomsnyc.org
Westhab, Inc
Westhab was founded in 1981 to address the affordable housing crisis in Westchester County. In our early years, we acquired vacant buildings and renovated them into quality transitional and permanent housing. In response to growing homelessness, Westhab expanded its focus to renovate and operate shelters in Westchester.
As our organization grew, we looked for ways to improve entire communities by engaging resident leaders and neighborhood stakeholders. Always intent not just on addressing the problem, but working to find a solution, Westhab began to provide employment services and youth programs, supporting families to break the cycle of poverty. We also undertook ground-up development of attractive, new affordable housing residences, including housing targeted toward seniors, veterans, young adults, and the disabled.
Today, our housing and social services combine to create a comprehensive community development approach—not just in Westchester, but also in New York City where we have recently expanded, developing affordable and supportive housing, operating homeless shelters, and providing youth programs and employment services.
Westhab is—Building Communities. Changing Lives.
Learn more about their incredible work: https://www.westhab.org
Pajamas for Peace in Schools
Pajamas for Peace began with a Pajama drive in a community setting and at schools to honor the children and staff who lost their lives at Sandy Hook Elementary. Every year on December 14th we go into schools and create Pajama Gift packages with each child so they could be a part of the giving process. We then take these creatively designed packages and donate them to children and families at our partnered shelters. We hope that the Pajamas for Peace Project promotes peace and inspires philanthropy and community service in our youth.
Follow us on @pajamasforpeace to see our continued work in schools.